22

Riomaggiore
Riomaggiore is a pretty small village located on the blue waters of the Golf of Genua and just a kilometer away from Amalfi.
Although the picturesque coastal town is very small, it is the largest of the five villages of the Cinque Terre. Pastel-colored houses seem to stick to the cliffs. From these rocky shores you can see the calm sea and how the azure blue water winds gently up the fine-grained sand without any spray foaming.
Here begins the famous Sentiero Azzurro (Blue Path) with the first stretch between Riomaggiore and Manarola. He is also known as Via Dell'Amore (Love Path).
Our tip: In order to master the overwhelming influx of tourists, access to the rather small Cinque Terre places is limited in the summer months. So it may be that you are denied access to the coveted trails.
23

Atrani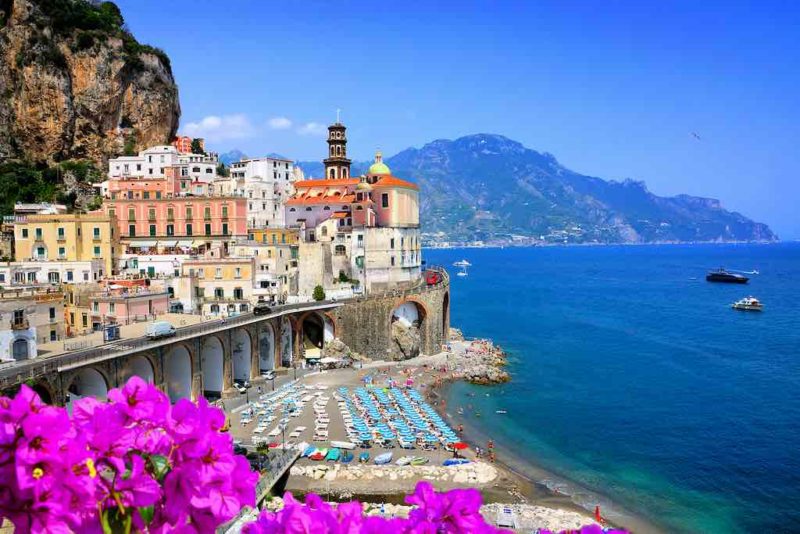 Atrani is probably the smallest but best-preserved fishing village on Italy's Amalfi Coast. Situated between sheer cliffs and the turquoise crystalline sea, near the so-called Valley of the Dragon it has little traffic and noise, even in summer, because it only opens to the beach and the sea. This is probably the secret of its pleasant square, where a few bars and restaurants have opened.
In the middle age, the village used to be the summer residence of noble families of Amalfi. But as political Power faded the village was in oblivion. Today still quiet and picturesque, its winding streets have remained largely unchanged. The main entrance to the town starts from the beach, and from there, the traditional houses climb up the steep mountain valley, intertwined with gardens and lemon terraces.